Belen Criminal Defense Lawyers
Knowledgeable Belen Criminal Defense Attorneys Ready To Serve You
If you are facing criminal charges in New Mexico, even for something like a first-time DUI, you could be facing major fines and potential jail time. To protect yourself, you need experienced legal representation. Attorneys Jack Mkhitarian and Kenneth Gleria of New Mexico Criminal Law Offices have helped thousands of clients in Belen and throughout the state fight their criminal charges.
If you would like free information about your rights, we encourage you to contact us as soon as possible for a complimentary case evaluation. Why do we talk to people for free? We want to earn your trust so that we can help you avoid getting convicted.
Why Choose Us?
1. Our Decades of Experience
Our lawyers have over 24 years of experience representing defendants in criminal cases in Belen and throughout New Mexico. Since opening our doors in 1997, we have handled more than 5,000 criminal cases.
2. Our Established Reputation
Our clients know us as some of the most aggressive and most trusted Belen criminal defense lawyers serving the residents of Belen. Thanks to our decades of experience, we have earned a reputation as effective negotiators in plea bargains and powerful litigators at trial.
3. Our Commitment to Criminal Defense
At New Mexico Criminal Law Offices, we focus on one thing: New Mexico criminal law. Unlike other firms with attorneys who handle criminal cases, divorces, business disputes, and other matters, we are focused exclusively on criminal defense.
4. We Have Trial-Tested Strategies for Success
Through our years of trial practice, we have developed proven strategies for protecting our clients' Constitutional and other legal rights. Attorneys Jack Mkhitarian and Kenneth Gleria have represented thousands of clients, and they use their trial-tested strategies to help the criminally-accused in Belen avoid jail time and other penalties.
5. We Win
These strategies have allowed us (and our clients) to enjoy a long record of success. We are passionate about helping our clients, and it shows. See some examples of our victories in our Case Results.
6. We Have Experience Defending Your Charges
With more than 5,000 cases under our belts, we have most likely defended the exact charges you are facing in Belen. We regularly represent clients in cases involving allegations of DUI, serious drug crimes, assault and battery, sex crime charges, homicide, and other criminal offenses.
7. We Have Unparalleled Knowledge of the Law and Legal System
In order to avoid getting convicted and spending years behind bars for a serious criminal offense, you need Belen criminal defense attorney who knows the New Mexico criminal justice system inside and out. This knowledge only comes from decades of experience defending clients in criminal courts throughout the state. As a result of our experience, we are intimately familiar with the laws, prosecution strategies, and judges that will be involved in your case.
8. No One Will Work Harder
Defending criminal cases is what we do. It's all we do. We are committed to winning the best possible results for our clients, and we are confident that no one will work harder to protect your rights.
9. We Truly Want What's Best for You
For us, being a lawyer is about doing what is best for our clients. We have chosen to dedicate our lives to representing criminal defendants in New Mexico, and we believe that nothing is more important than protecting your legal and Constitutional rights. If you choose to work with us, you will see that we are unwaveringly devoted to obtaining the best possible outcome in your case.
10. You Can Talk to Us for Free
If you have been arrested for a crime in Belen, we invite you to call us for a free, confidential consultation. We are happy to speak with you at no charge to evaluate your case.
We Handle Many Different Types of Criminal Charges
Our Belen criminal defense attorneys have seen just about everything in criminal law – from simple driving charges, up to homicide cases, and everything in between. Here is a quick rundown of cases we see frequently.
DUI – Unfortunately, this is an offense that we see often, whether the officer was truly warranted in making an arrest or not. So here are some basics that it is important for you to understand about DUI's.
You do not have to "feel" intoxicated or even act particularly drunk to be suspected of DUI. And once an officer suspects DUI, there is very little to stop him or her from making an arrest. When you are stopped by an officer while driving if they see that you have bloodshot eyes or are slurring your speech at all, or smell of alcohol, that is usually enough to get the ball rolling. Typically, they will then ask you to exit the car and take what is called Field Sobriety Exercises. Eventually, you will be asked to take a breathalyzer test.
If you blow above a .08, you will very likely be arrested. And even if you blow under a .08, many times the officers will ask you to submit to a blood test to look for drugs in your system. Some people think that it is OK to refuse a breathalyzer. And while that is technically true, a refusal usually strips you of your license for up to a year – so proceed with caution if you choose to refuse. And if you do get charged, speaking with one of our experienced attorneys right away will give you the best possible chance of getting a positive result, whether that is getting the case dismissed, getting evidence suppressed, or simply getting the best plea bargain possible if that is what you determine is your best option.
Larceny – Larceny is a word that is used to describe pretty much any type of theft. In New Mexico, larceny is defined as the stealing of anything of value that belongs to another. Larceny is classified as either petty or grand, and this classification is determined by the value of what was stolen. The classification also categorizes the act as either a misdemeanor or a felony, and if a felony, it will determine the degree of a felony that gets charged. And anything of value qualifies, from skipping out on a check at a restaurant, to stealing someone's identity, to stealing lipstick from your local Walmart, to grand theft auto.
Burglary – Burglary involves breaking and entering into someone's car or residence for the purposes of committing a felony or theft therein. This is a more serious crime than simple larceny, so it's important that you have a lawyer who is ready to go to bat for you and challenge aspects of the case that might get the charges dismissed or reduced.
Robbery – A robbery is essentially the act of theft, but by the use of force or intimidation. Again, because force was used, this is a more serious crime than simple larceny and requires a dedicated advocate fighting for your rights.
Homicide – Obviously, this is one of the most serious charges that a person can face, and it actually comes in a number of different incarnations. There is premeditated homicide, which is the worst as far as possible penalties, then voluntary and involuntary manslaughter, and even attempted homicide. The differences between the penalties in these cases can be quite significant, so having a great lawyer by your side who knows how to represent you is absolutely critical.
Let Us Help You Protect Your Future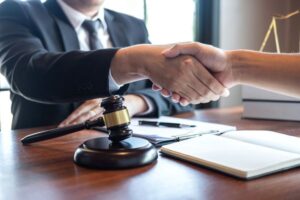 When you are facing criminal charges, you are not in a position to take chances. You need a committed, aggressive, and experienced Belen, NM criminal defense lawyer who will fight tirelessly to protect you. At New Mexico Criminal Law Offices, our highly-skilled Belen criminal defense lawyer is prepared to do what it takes to win a just outcome in your case.
Experienced Defense Legal Team Serving Belen, NM
Attorneys Jack Mkhitarian and Kenneth Gleria of New Mexico Criminal Law Offices provide experienced legal representation for individuals charged with crimes in Belen, NM. To learn about your legal rights and find out what we can do to protect you, call (505) 200-2982 or contact us online to request your free case evaluation today.